Introduction
In the spring of 2016 our studio was approached by a member of the art committee Zeist, requesting a quote for the Restoration of two zinc Red Deer images, located in the Zeister-forest, (Driebergen-Zeist,  Holland.)
One deer image dates back to about 1848 and is a replica of a design by German sculptor C. D. Rauch (1777-1857).This first deer image was ealier owned by a mr. Schutz from Zeist, and was exhibited at the London World Exhibition in 1851. Then presumably purchased by one Willem Veder who had placed this sculpture for his home in Rotterdam (Westplein No. 11?) . One, presumably, family member and / or son of Willem Veder, Mr. Anton Veder built in 1916, in Zeist a  country house,  named "Djimat", where were located, 2 Deer zinc sculptures .Who or when the 2nd deer sculpture is made, is not known.
In 1951, the widow, mrs. Veder-van Hoboken, donated this two sculptures to the municipality of Zeist. (and were also repaired and re-painted.
Beginning the year eighty, the 2 images have been refurbished by the public works department of the municipality of Zeist. The images were then sanded and / or sandblasted and painted again in brown-black "bronze" color. The loose joint parts and a leg portion are soldered. Then a solid concrete slab was poured around the deer. (Source: film public works) Then the deer images were placed in front of the forest-detached house in the Zeisterforst, on  rock plateau's, which were refurbished on site, however, the placement of the 2 deer has been done in accordance with the old arrangement, but the rocks are " swapped ". (high versus low)Originally lay the Red deer with the half-stretched forehead on the high rock (left to the viewer) and the other deer on the low rock. (Source: Old postcard country house "Djimat").
Since the eighties, these two Deer images, slowly but surely, have grown over with bushes and trees and have had, no maintenance anymore. As a result, they were in fairly bad condition in 2016.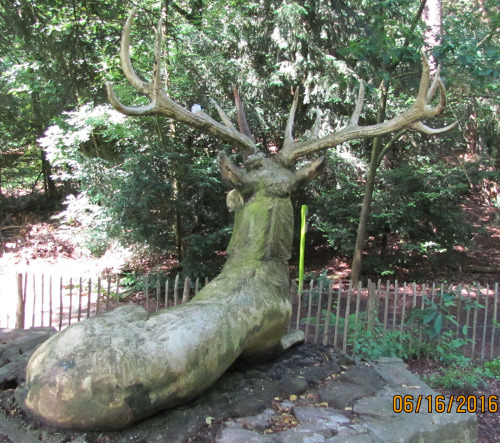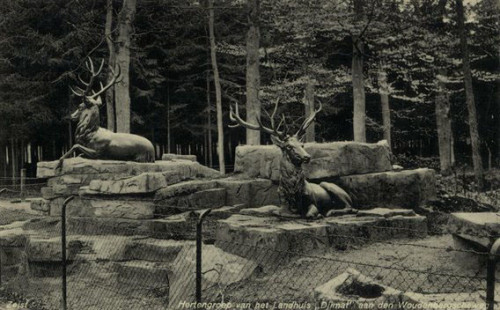 Old postcard, garden of coutryhouse "Djimat"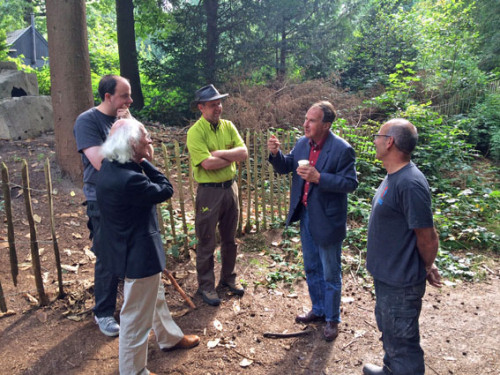 LTR: Gijs Kuiper (Coucil artcommittee), Freek van Rij (stoneworkfactory Maarssen), Joris Hellevoort (Ranger,/Utrecht's  Landscape), Hans Picard (Restorer of the sculptures), Ton Wuijten (restorer stone-pedestals.)
The restoration, step by step
1. Cleaning the images with a handwarm soap-solution and afterwards,  cleaned with a high pressure syringe, (reduced pressure.) This has been done twice per sculpture.
2. Finishing of open seams with a 2-comp. Epoxy primer, especially suitable for metal. This is repeated per image, especially for the larger cracks.
3. Preprocessing the broken parts of the antlers, idem with this primer.
4. The loose parts of the hinge are fixed again with 2 comp. epoxy adhesive (e.g. glued pins).
5. One of the antlers that had been broken down in total, but fortunately it was stored in parts, and was reconstructed at our studio. (materials: idem).
6. After gluing all parts and shaping / trimming of glued connections and repairs, the two images are completely cleaned again.
7. To slow down the erosion of the iron (inside) frame, 5 small holes (5.5mm) were drilled and Tectyl internally atomized.
The holes are sealed with plastic caps and debossed with a thin layer of epoxy.
After drying, the two images are painted with a grey metal primer (firm Sikkens / Engels, Amsterdam).
8. The images are then painted again, now with a cream-white metal primer. After several experiments painted with a combination of paintwork and spraying with brown highgrade paint, mixed with a clear gloss finish.
The result
At the first delivery, especially Mr. G. Kuiper (Art committee, Zeist), found the 2 deer images to light in color, which did not appear to correspond with the authentic recording and preserved color scatter.
Therefore, in further consultation, it was decided to give the 2 images again a color treatment , now with a darker color (bronze-brown) selected by the art committee.
After this treatment, everybody was very satisfied with the result.
N.b: The rocks / piedestals (of sand cement) have been repaired by restoration firm/stonefactory  "Maarssen", mr. Ton Wuijten.