Introduction
In 2014, our studio was approached by mr. Jan Holvast, the chairman of the community-centre of the village of Landsmeer . Netherlands
I was invited to make a quote for the restoration of the 6 meter high concrete relief, on the outer wall of the community centre of Landsmeer.
This artwork was designed by the artist Atze Haytsma and placed in 1966.
The concrete is weathered and dirty. In many places, moss and algae have grown and in some places the armor has been rusted and a piece of concrete has been pushed off.
Two years later (2016), I was told that it was possible to start the restoration, because  they gathered a budget for the restoration of this relief.
The restoration, step by step
Around the image is a 7 meter high scaffold built.
I tested with how much pressure I could clean the image and whether the concrete could "handle" the cleaning, to see in  the structure and firmness of the concrete "skin."
The image is then rubbed with a mixture of an anti-algae  liquid and a cleaning soap.
Large algae and moss spots are manually scratched. With scrather and fine steel brush.
After done this, the image is sprayed with a high pressure syringe and water, but at medium pressure.
This operation has been repeated twice.
The exposed reinforcement is un-rusted and painted with zinc paint.
After that, the worst missing parts on the spot were updated in restoration concrete. Kwa cement color has been chosen to get as close to the original as possible, however, a very small color difference has been left to be able to find the "additions" of the restoration.
The result
The relief is finally treated 2x with "rain-tight". This is a colorless impregnating agent for shield walls, but in this case, the concrete will last longer against new algae and moss growth.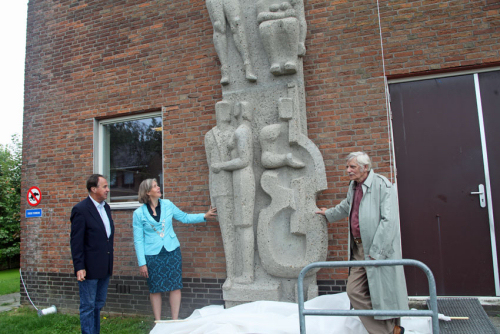 The Mayor of Landsmeer, together with the artist and the restorator